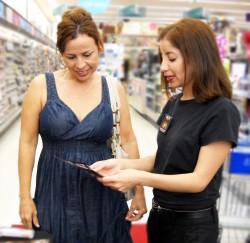 Research shows that out of every 100 shoppers, about 20 actually know that they want and will tell you right away exactly what they're looking for. The other 80%  want something but won't tell what it is. Why won't they tell you what they're looking for? Because they are afraid – afraid of being pressured into making unwanted purchases. As a result, many customers put up their defenses early, and their primary defense is to say they are "just looking."
We are sure you have all run into this at stores you have promoted products in and here are a few tips to help you to lower their defenses:
1. RESPOND TO "JUST LOOKING" POSITIVELY, WITH EXCITEMENT!
When a customer says they are "just looking," respond immediately with energy and excitement. Tell them, "GREAT, since you are browsing, why not check out the item I have here today?" – then give them the sample, apply the product to them, etc.
2. IMMEDIATELY ASK A NON-THREATENING QUESTION
Your goal at this moment is to keep the customer engaged, but without pressuring or crowding them in any way. The best question to ask is usually, "What beauty products do you use now?", get a conversation going.
3. FIND OUT WHAT THEY REALLY WANT
The key is to develop a relationship with the customer, have a conversation with them. Find some common ground, see what their needs are (spend less money, find something that works better). Get them to agree with you – for example, "Wouldn't it be great if you could find a product that would eliminate wrinkles?" or "Wouldn't you love a product that makes your hair shiny?". Once you get them to say YES a few times, it is easy to get them to say yes to your product.

Of course, you will still have some customers who require their space no matter what approach you use. But, if you do the above with the right attitude and a smile on your face, you will find fewer and fewer "lookers" pushing you away and more sales ringing through at the cash register!
Categorized in: Sales Tips
This post was written by admin